DazzleM desserts Wedding Cake, Hard Rock Hotel, San Diego
<< back
dMd Photography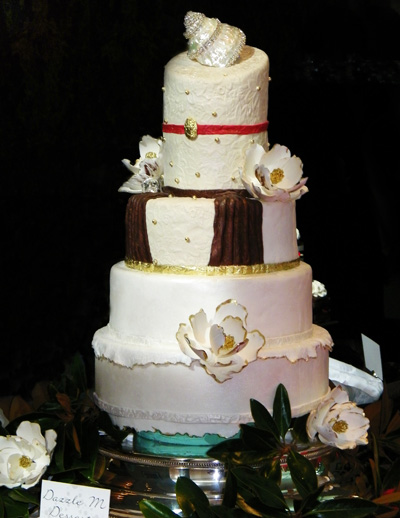 In January 2009, event professionals from around the globe came to San Diego for The Special Event 2009 held the San Diego Convention Center on the San Diego Bay. It was a fabulous multi-day event, highlighted by the "Bridal Luncheon" and Wedding Cake Gallery held at the übermodern Hard Rock Hotel, San Diego, conveniently located across the street from the San Diego Convention Center. dazzleM desserts was delighted to be one of eight local cake designers selected to create a feature cake for the Wedding Cake Gallery. The theme was "Cake as Fashion."
Chef Jen's design featured several traditional and modern fashion elements integrated into a dazzling creation. The top tier was double height, covered with ivory fondant featuring a lace and pearls motif. A gold fondant broach was prettily held on a thin red fondant ribbon. This top part of the cake represented the bodice of the wedding gown. The design included vertical pleats of chocolate fondant. This mid-section of the cake represented the transition from the gown's bodice to the billowy skirt of the wedding gown, consisting of two (large and larger) cake tiers covered in wedding white fondant. For a modern millennial touch, the edge of the tiers of the dress' skirt featured torn, irregular fondant gilded in edible 24k gold. Huge white sugar magnolias adorned at various locations on the wedding cake. The magnolias were hand highlighted with 24k edible gold and with brash brush strokes of chocolate brown color on the back of the flower petals. The bold use of the magnolias shows that this bride is strong and prepared to take on the challenges of life and marriage as a woman of the 21st Century.
The cake set atop a narrow tier of Tiffany blue fondant ("something blue"), giving the torn hem of the dress a 3D perspective. A gorgeous silver cake plateau provided balance and glamour. Fresh magnolia leaves surrounded the cake plateau.
As a nod to The Special Event 2009's glistening bayside location, Chef Jen chose a gorgeous bejeweled Swarovski crystal glazed shell to represent the bride's stunning headpiece.